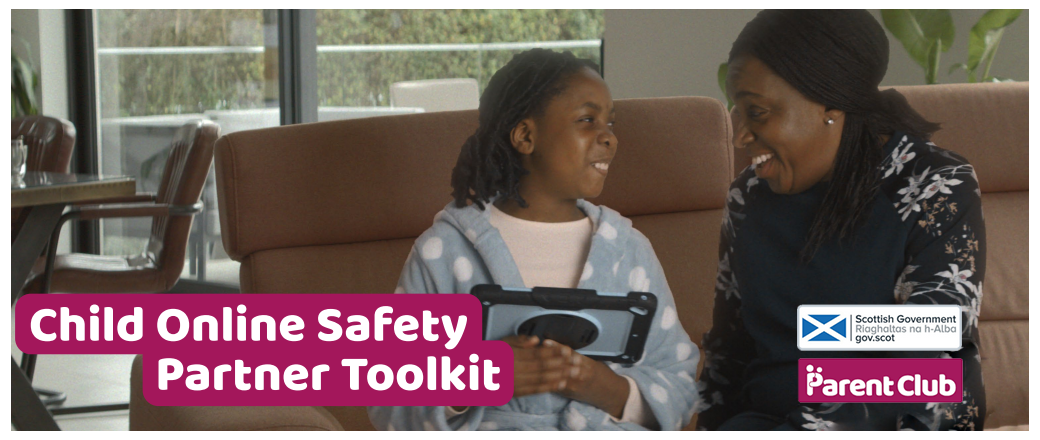 Information from Parent Club Scotland on the Child Online Safety Campaign 2022 and Partner Toolkit for use in Scotland. Parent Club offers up-to-date guidance from the Scottish Government on children's health and education.
Now, more than ever, children are living in a digital world; 66% of 8-11 year olds own their own tablet and 49% own their own smartphone.
The online world is a major part of all of our lives, and children of all ages are now spending more and more time online. It's important to teach them how to stay safer online but it can be difficult to know where to start. By finding opportunities to start the conversation, talking regularly about online safety, and taking an active interest in what they do online, children will feel more comfortable talking to a trusted adult about what they are doing and seeking advice if things go wrong.
Being aware of what children are doing online and talking about it regularly is vital, but it can still be easy for children to engage in risky behaviour online. Knowing how to put practical safety measures in place can prevent online dangers that children may face, including exposure to inappropriate content, messaging strangers, grooming, unauthorised spending, and online bullying. The more aware we all are, the more protected children will be.
The campaign hub at ParentClub is packed with practical ideas and advice to help support parents, carers and community leaders who support families, to feel more confident and informed on the steps they can take to help keep children safe online.
Download the Child Online Safety Partner Toolkit