Free recorded webinars from CELCIS
CELCIS regularly produces online webinars which discuss many topics concerning the care and protection of children and young people. The recordings of these events are below and reflect practice and policy in Scotland and beyond.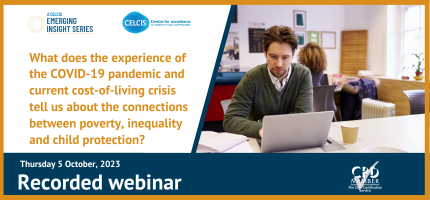 What does the experience of the COVID-19 pandemic and current cost-of-living crisis tell us about the connections between poverty, inequality and child protection?
In this CPD accredited webinar we heard from Anna Gupta, Professor of Social Work at Royal Holloway University of London, John McKendrick, Professor of Social…