World Social Work Day 2022: the experiences of social workers during COVID-19
15 March 2022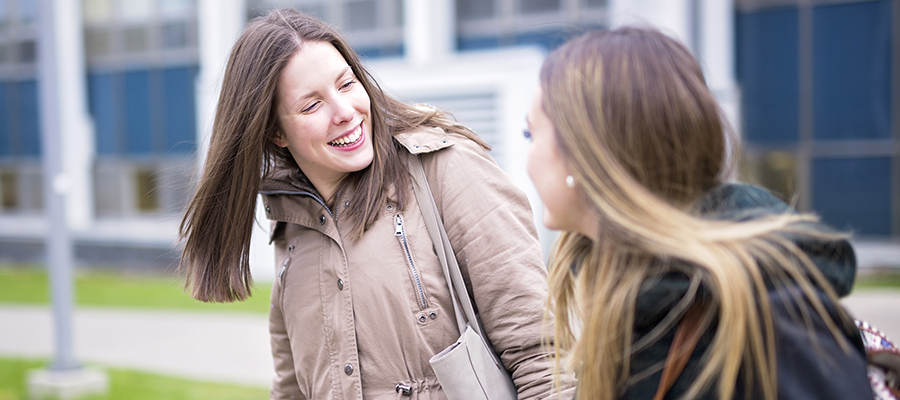 On this World Social Work Day, two social workers from East Ayrshire Council, in Scotland, share their thoughts and experiences of the impact of the pandemic on social work practice.

Irene Ward, a Social Work Team Manager, reflects on how COVID-19 has impacted on social workers, and how, despite challenges, they have continued to support families, children and each other.
What a year it has been. As we make moves to try and get back to a new normal, we begin to see the real impact this virus has indeed had on our communities, our work and our lives. Our children are now back in school, shops have relaxed some regulations and some activities have opened back up. We can now return to meet up with our friends and families.
The challenges for social workers
It would appear that things should be settling back down in social work land. What I see though is an increase in staff sickness and tired workers who, over the last two years, have given their job everything they had to give. With some workers off with illness, others are having to give just that wee bit more.
Since the beginning of this year we have seen a rise in failing mental health and a sense of helplessness from the families we support. People are tired and seeking the old way of life, where their children went to social events, were in school full time consistently, and they enjoyed family days out when their budgets allowed. With the current financial climate and fear of the unknown in regards to the Ukraine war, it seems there is no space to breathe and return to our 'normal' lives.
'I still hear laughter in the office and workers supporting each other'
Despite this though I have seen some of the best social work practice in my career over the last year. I have seen a strong link to other agencies, good old fashioned joined up working between professionals, and stronger ties being made between social workers who, despite it all, still went out and chapped on doors. Although morale has appeared low at times, I still hear laughter in the office and workers supporting each other.
Within my team alone we have supported children to return from care to live with their families. We have broken down the barriers of resistance and dismantled stereotypes between families and social workers to allow children to remain safe. We have supported plans for children in our Children's Houses to have a goal of moving towards being able to live within a family unit again. We have supported care experienced young adults to begin to build relationships with their families and ensured our care experienced children have more of a say in how we review their plans, with them now feeling more in control of their lives. Some children have learned to play the guitar, some have felt safe enough where they're living now to now go to school and actually learn in that environment. We have progressed permanence plans for children to be adopted, where this is in the best interest of the child. Our workers have done this with a motivation that has not wavered despite the barriers.
Working together to support families – and each other
The care planning I have seen has looked beyond what we feel traditional children's services can offer to include more creative supports in the community to build into care plans, moving towards our goal of a more accessible service within our small rural villages.
We look forward to offering our workers continued agile working, where they can walk their own dogs at lunchtime while working from home, along with using the office to touch base with their colleagues and gain that much needed peer support.
I wanted to think of a good news story over the last year and to be honest I could write forever about the times I have felt honoured and proud of how my team have supported others, often when their own lives are not going smoothly or their own well-being takes a dip. No matter what is thrown at them, they get back up and try again. East Ayrshire Council is lucky to have such motivated, loyal staff, who go above and beyond every day. So to all Social Workers who have worked through this ever changing pandemic, on this day where we celebrate our career, I thank you.

David M Clarke, a Social Worker in the Children and Families Team, shares his thoughts and observations working as a social worker in a children and families setting during the COVID-19 crisis.
To mark World Social Work Day, I thought I would outline three interesting things I've noticed about social workers. During COVID-19. Many of these observations apply to the many other roles within health and social care, including Family Support Workers; counsellors; addiction workers; community workers and other colleagues who have worked tirelessly throughout the pandemic. Here goes:
1. Social workers really know how to 'get the job done'
In many ways, COVID-19 never stood a chance against us. Curtailed by necessary government and/or local restrictions, which have changed daily at times, social workers have gone about their role with creativity, skill, passion and care to ensure that they have been able to meet the needs of children and young people they support. This has often required prioritisation of need over process (no bad thing), resulting in services being delivered in creative ways. I am minded of garden visits and socially-distanced walks becoming a COVID-friendly way of maintaining time with young people. I have seen workers undertake video-call 'cook-along' sessions and family quizzes to promote fun and activity during strict lockdowns. I am confident that people reading this will be able to offer many more examples of workers getting the job done which assures me that, as a body of professionals, and given the scope to do so, we are able to work towards good outcomes for the children and families we support, even in the most difficult of circumstances.
2. Social workers really missed home visits
The profession has embraced modern technology as a means of working with colleagues and the people we work to support during the pandemic. In many ways, this has been a positive move. For example, I can no longer imagine travelling 30 miles to attend an hour-long professionals' meeting when we have virtual platforms at our disposal to use from our office or homes. However, no such platform can replicate the quality of conversations with children, families and carers in their homes. While in many areas, home visits have continued, these have often been determined by levels of risk or urgency. Consequently, social workers have carried a lot of anxiety of what they might be 'missing' in respect of child welfare issues, particularly with reports of increasing cases of domestic abuse in the country. I often think it is easier to get a sense of a child's lived experience by seeing it, rather than talking about it, particularly for younger children. In many ways, this is where I think social workers do their best work and periods of lockdown and associated restrictions have made me really appreciate the privilege of being able to spend time with children and families in their homes.
3. Many social workers have found, and continue to find, things really difficult in practice due to pandemic-related pressures
While my social work colleagues have responded to the global crisis with remarkable drive and resilience, it would be unfair not to reflect that for many, working during a pandemic has been traumatic and exhausting. I am certain that social workers are not unique from health, education and other social care workers in this regard. These past two years have come at a cost to many social workers' mental health and capacity to continue in their role. Social workers have more than done their bit, but at what cost? At a time when COVID-recovery is towards the top of the national agenda, surely now, more than ever, this is the time for wholesale change to our profession, beginning with meaningful policies directed at early intervention, poverty prevention and adequate funding of social work services? Social workers do not want thanks for their work during the pandemic, but rather want the profession they are passionate about to be set up in a way that they can practise in a way that is safe and sustainable. Let us work to our strengths; let us use our skills to affect positive change; let us be the social workers we always wanted to be. This would make for a very happy Social Work Day.
The views expressed in this blog post are those of the author/s and may not represent the views or opinions of CELCIS or our funders.
Commenting on the blog posts
Sharing comments and perspectives prompted by the posts on this blog are welcome. CELCIS operates a moderation process so your comment will not go live straight away.