Webinars from the CELCIS Emerging Insights Series
The CELCIS Emerging Insights Series is a series of free, live, online webinars in which leaders from the sector share insight, evidence and perspectives about the current critical issues, risks, challenges and learning in child protection. Learn about upcoming webinars and find recordings of previous webinars here.
Upcoming webinars will be featured here
---
---
Recorded webinars from the Emerging Insights series
Previous webinars from this series can be viewed here, with transcripts and other relevant information and links.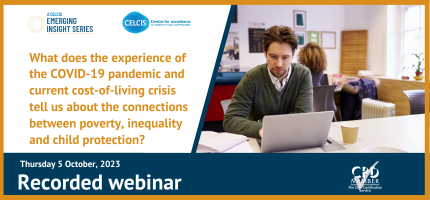 What does the experience of the COVID-19 pandemic and current cost-of-living crisis tell us about the connections between poverty, inequality and child protection?
In this CPD accredited webinar we heard from Anna Gupta, Professor of Social Work at Royal Holloway University of London, John McKendrick, Professor of Social Justice at Glasgow Caledonian University and co-director of the Scottish Poverty and Inequality Research Unit and Lisa Bunting, Professor of…