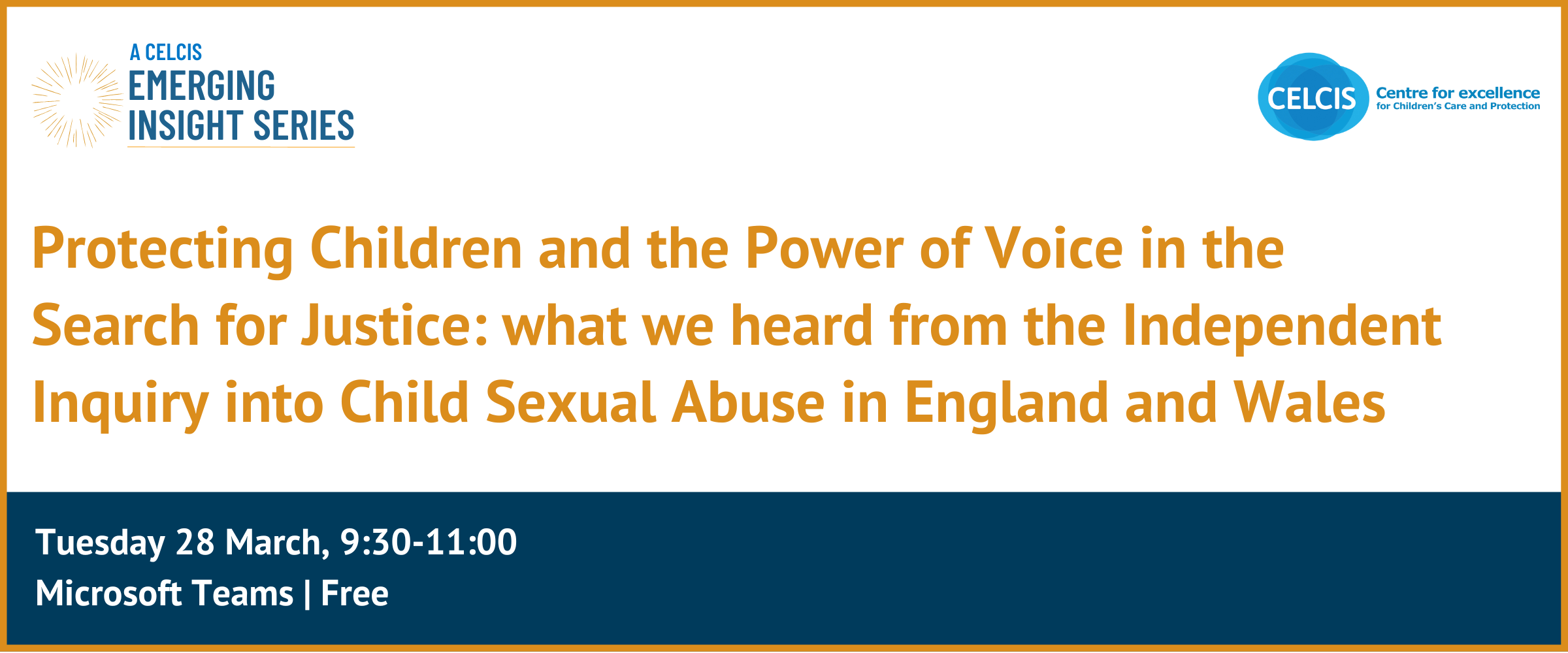 A CELCIS Emerging Insights Series:
Protecting Children and the Power of Voice in the Search for Justice: what we heard from the Independent Inquiry into Child Sexual Abuse in England and Wales

Join us for the first free webinar in our CELCIS Emerging Insights Series. This webinar is one of a new series of free, online webinars where we will hear and share insight, evidence and perspectives about the current critical issues, risks, challenges and learning in child protection.
When: Tuesday 28 March 2023, 9.30-11am
Where: Online - Microsoft Teams.
Attendees will hear from the Chair, Secretary and an advisor to The Independent Inquiry into Child Sexual Abuse in England and Wales, which published its recommendations at the end of 2022. The webinar will look at what the Inquiry's findings mean for child protection now by putting a spotlight on three themes in particular:
The importance of including the survivor voice at the heart of this Inquiry
What emerged as learning about institutional behaviour across different, non-familial settings
The path to key recommendations including mandatory reporting
Why should I attend?
This series will offer attendees the opportunity to:
Access new thinking, research, insight and perspectives on emerging issues.
Think, learn, engage and ask question with staff and practitioners responsible for children's protection and care
Learn about emerging issues and insight with the opportunity for them to pursue further reading and engagement through existing published resources
Who are the speakers?
Our speakers for the webinar are:
John O'Brien, Secretary to the Inquiry
Sabah Kaiser, Ethnic Minority Ambassador to the Inquiry
Professor Alexis Jay, Chair of the Inquiry.
Who should attend?
This webinar is open to everyone with a role and interest in what's happening to better protect children and young people in Scotland, including carers, advocates, social workers, policymakers, teachers, health professionals and all those working to protect and support children and young people.
Event details
When: Tuesday 28 March
Where: Microsoft Teams
Cost: Free
Time: 9.30-11.00am
Contact Organiser