The life of a foster carer
19 May 2022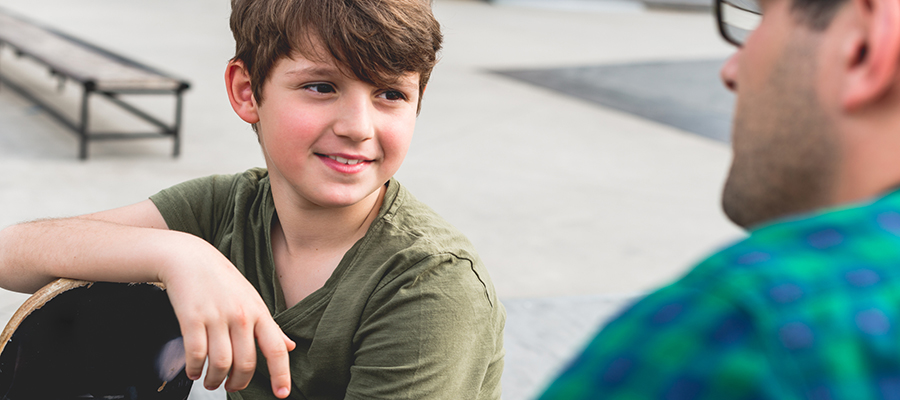 Anne Marie Coyle has been a foster carer for over 15 years with the Kibble Fostering Service, which provides fostering for children and young people aged five and above that have faced significant challenges in their lives. Here she describes what it takes to provide good quality care, the rewards, and the challenges.
Fostering is something myself and my husband have always wanted to do, and before contacting Kibble, we discussed it thoroughly with our family. We really wanted to think it through, as we knew it would be life changing – it's challenging but also very rewarding. It challenges your own morals, beliefs and ethics.
We discovered early on that it's not always easy to be spontaneous when you are a foster carer, everything needs an element of planning. If someone asks if you want to go somewhere at the weekend, we need to be sure the young person is okay with this, for example, they may not like going into other people's houses, or may be reactive to noise – it has to all be thought through.
In addition, I think over time there are a lot of things that you learn through experience. For me, experience has taught me to pick my battles. Like with any teenager, if you ask a young person to say tidy their room and they don't, it can become a big issue. At the end of the day, I no longer overthink it - I ask myself, on a scale of one to 10 how important is this? Often they are simply displaying normal teenage behaviour.
Being a foster carer isn't easy, but it is rewarding
The reward for me is to see a young person thriving. Even if they are only with you for a short time, we know we've made a difference in their life. They might not realise that yet, but perhaps ten years down the line they may think 'Anne Marie was right', who knows?
My husband spent much of his young life away from his family and he knows what it's like to try and integrate back into your family or where they stay, and he has a great rapport with young people. When I get chatting with a child who has just arrived, I let them know I've never been in their position, so I'm not going to sit here and say I know what it's like because I don't. But, what I do know is we cannot change their past, however, we have a good chance of helping their future.
The team around the child
If I had a message for anyone thinking about becoming a foster carer, it would be that if you feel you have the commitment, you should give it a go. Kibble offers all sorts of support, it is very much a team around the child, and supporting those that care for them. I attend weekly meeting with Kibble staff, social workers, key workers and other foster carers where we can share learning and experiences. Training is extensive and much of it is mandatory, which is helpful, on diversity, data protection, safe crisis management and so much more.
It doesn't always work out when someone comes to stay with us, and when that happens, I am gutted, but usually in the end I know it is the right thing. It's like a loss, a bereavement, and you ask yourself if you could have done better, done things differently. I have found some young people have difficulty with attachment and when they start to get too close to you, that's when challenging behaviour can really take hold as they struggle to regulate their feelings.
Not every child can, or wants to go home to their parents. Where possible we stay in contact with their family and we are here to help them to return, if that is what they wish. It's important to include family where possible, we are not trying to take over or be a threat, we are just trying to get it right for the young person.
Sometimes we only see a bit of the path ahead of us, but with support and help, we can help young people reach where they want to go.
The views expressed in this blog post are those of the author/s and may not represent the views or opinions of CELCIS or our funders.
Commenting on the blog posts
Sharing comments and perspectives prompted by the posts on this blog are welcome. CELCIS operates a moderation process so your comment will not go live straight away.